---
Making Your Own Easter Sun Catcher
---
An Easter sun catcher is a fun and festive way to decorate your home for the holiday, and it's a great DIY project that kids and adults can enjoy together. Whether you hang it in a window, on your front door, or in a tree, an Easter sun catcher is a simple and affordable way to add some holiday cheer to your home. I love making my own cun catchers, and I think you and your kids will enjoy doing it too!
Materials needed:
Clear plastic ornaments
Tissue paper in various pastel colors
Scissors
Glue
Ribbon or string
Easter-themed stickers or decorations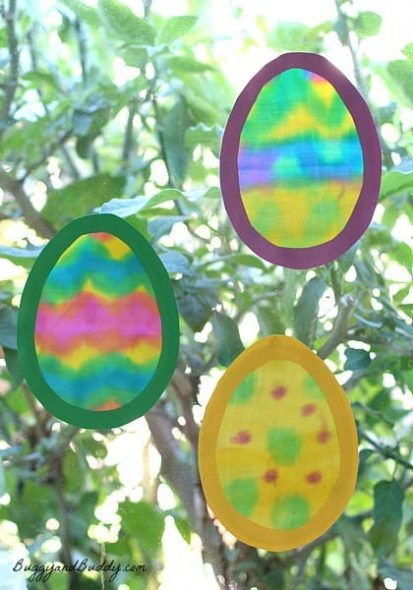 Instructions:
Start by removing the top from one of your clear plastic ornaments. If your ornament doesn't have a removable top, simply make a small hole in the top of the ornament using a pair of scissors.
Cut your tissue paper into small squares, about 1 inch in size. You'll need several squares for each ornament, so be sure to cut enough tissue paper to fill all of your ornaments.
Take one of your tissue paper squares and scrunch it up into a ball. Place the ball inside the ornament, and add additional tissue paper squares until the ornament is full.
Replace the top of the ornament, and secure it with a piece of ribbon or string if necessary.
Repeat the process with additional clear plastic ornaments in different colors, creating a collection of Easter sun catchers in various shades of pastel.
Once all of your sun catchers are complete, you can decorate them with Easter-themed stickers or decorations. Simply add a few stickers to each sun catcher, or use glue to attach small Easter-themed items like plastic eggs or bunnies.
Your Easter sun catcher is now complete! This simple and festive DIY project is a great way to add some holiday cheer to your home, and it's sure to be a hit with family and friends. Whether you're making it for your own home or as a gift for someone special, this project is a fun and easy way to get into the spirit of the season. So gather your materials, get creative, and start making your own Easter sun catcher today!
---